This episode is an interesting one... Hmmm... Let's see now...
Miss F-A-B-O, fabulous Toccara dropped by to throw in a slumber party with the girls. It's like she's one of the girls again so that was nice.
Then the day after, they had some posing lessons with Benny Ninja and former model turned DJ Sky Nellor. She reminds me of Isabel Preysler [Enrique Iglesias' mom] but on the funkier side... The challenge was to put into pose a certain music. Practically, more than half sucked on it.
Just like any other challenges, they had an output test which turned out to be a model pose off. I thought Allison looked pretty cute on that stage. Tahlia is her usual low energy self, though I like the blond hair on her for some weird reason. Natalie and Celia stood out but ulitmately, Celia outshined the others and won the challenge.
I really, really like this week's photoshoot. The theme was the old Ellis Island imigrants. I don't know how they came up with it but it was a nice concept. I've had enough dose of the "benny ninja cough syrup" for today. Guess what, he's there on the photo too...
The whole "I don't wanna be here anymore" drama with Tahlia went a little too long from the house, to the photoshoot, til the panel... UGH! Exhausting! She ended up with the best photo and was like, oh yeah, thanks! Celia had this surprising "may I speak up" scene about Tahlia after the eliminated girl was revealed [which was Kortnie]. I hate to admit but yeah, just like Tyra said, it is unfair that she's the one speaking up for Tahlia and not Tahlia herself. DRAMA... I can hear Janice saying that...
So these are my top three for the week.
So far Teyona and Allison [despite her bottom two picture last week] are the ones that sort of consistent to be on top or almost there...
Allison -- is she one of the kids?


Teyona -- probably the most believable story wise...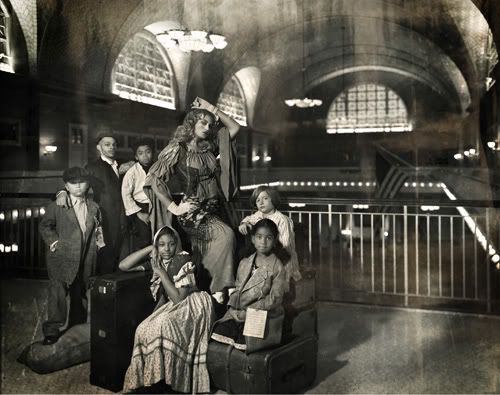 Tahlia -- despite the drama, drama, drama at least she put that into good use this week...